The RICS coupon feature in conjunction with the RICS promotion feature enables retailers to track and analyze coupon performance as coupons are transacted through the RICS POS. To assist a retailer with tracking and analyzing these transactions, RICS provides a promotion analysis report to identify key coupons and their ROI.

PREREQUISITE

Prior to running a promotion analysis, please ensure a promotion is set up by following the Manage Coupon Promotion Codes steps and ensure the promotion is attached to a coupon by following the Manage Coupon steps.

This document is a resource for retailers to understand how to analyze coupon performance using:
• Generate a Promotion Analysis Report

GENERATE A PROMOTION ANALYSIS REPORT
Follow the steps below to generate a promotion analysis report.

REPORT OPTIONS TAB
1. In the RICS Back Office, go to Reporting :: Sales :: Promotion Analysis
2. Use the Sales Period dropdown menu to determine what sales period to analyze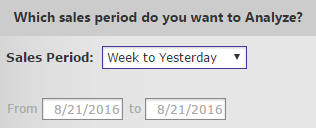 REPORT CRITERIA TAB
1. After selecting the report options, click the Report Criteria tab
Note: The Report Criteria tab will be blank unless the user is analyzing data from a Store Owner level within a multi-store organization.
2. Click Add Job and Run