My receipts have never printed on this POS.
Follow the steps below to setup your receipt printer.
In the Options tab of the POS, select your receipt printer and the correct printer type
My receipts were printing on this POS, but have stopped printing.
The below troubleshooting techniques can help resolve issues with receipt printing.
Run all Windows Updates and restart your computer if prompted to do so during the Windows Update process.
Ensure the correct receipt printer/printer type is selected in the Options tab of the POS
In the Options tab of the POS, ensure your receipt printer is selected and the correct printer type is also selected.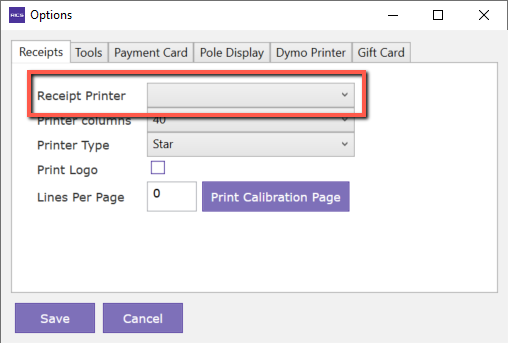 If you have multiple copies of your receipt printer installed, check your Devices and Printers (Windows 7) or Printers and Scanners (Windows 10) to see which copy is Online and select the appropriate copy.
If your printer is selected, but your printer type is not in the drop-down list, try a test print with each printer type to see which works best.