OVERVIEW
Orders placed online will be recorded in RICS once the order is paid for or completed (payment is processed, and items are shipped/fulfilled).
This document is a resource for retailers to understand how to:
1. Report on Online Orders
2. Manage Ecommerce Orders
REPORT ON ONLINE ORDERS
Completed online orders are automatically included in standard sales reports in the RICS Back Office Report Creator except:
· Sales Analysis
· Sales by Month
· Sales Journal
To include online sales in the reports above, select Web Sale under the sale type area of the Report Options section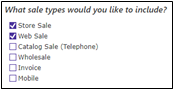 MANAGE ECOMMERCE ORDERS
RICS Manage Ecommerce Orders screen can be used to easily view:
1. Orders recorded in RICS
2. Completed orders not recorded in RICS
ORDERS RECORDED IN RICS
Follow the steps to view online orders recorded in RICS.
1. In the RICS Back Office, go to Ecommerce :: Manage Ecommerce Orders
2. Click Shipped

3. Use the date selection dropdown menus to select the Year and Month of completed orders

Note: Orders will automatically display once Year and Month are selected
4. To see more information on an order, click the order then click View Details

COMPLETED ORDERS NOT RECORDED IN RICS
Orders may not be recorded in RICS for two reasons:
ORDER IS NOT COMPLETE
If an order is placed on the website but is not complete yet, you may see the order on the Pending, Approved, or Cancelled tabs of the Manage Ecommerce Orders page. The status of the order on the website determines which tab the order is displayed.
RESOLUTION NEEDED
Follow the steps to view and resolve online orders not recorded in RICS.
1. In the RICS Back Office, go to Ecommerce :: Manage Ecommerce Orders
2. Click Invalid

Note: Orders not recorded in RICS will automatically display
3. To resolve an order, click the order then click Resolve Sale

4. Determine if the order should be recorded in RICS
Do NOT record order in RICS
I. Click Ignore Order
II. Click OK to confirm

Record order in RICS
I. If the ordered item is highlighted in red use the cursor to hover over the unmapped product and click Edit SKU on the right side of screen. If the ordered item is not highlighted in red,

II. Enter the SKU and/or description in the corresponding fields and click Search to display the results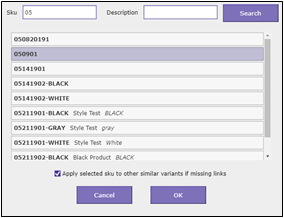 III. Click OK
IV. Use the Grid Col and Grid Row dropdown menus to specify the product size

V. Repeat steps 1-4 for all items that require mapping
VI. Select the desired sale and inventory locations with the available drop downs

VII. Click Resolve Order
VIII. Click OK to confirm the sale and save the product mapping