The RICS>Pay Virtual Terminal enables retailers to process credit card sale transactions manually in the RICS>POS. This feature has been designed primarily to provide an additional processing option if the card present network experiences an issue.
This document is a resource for retailers to:
• Use the Virtual Terminal in RICS>POS
• Update Virtual Terminal Setting

USE THE VIRTUAL TERMINAL IN RICS>POS
1. Select a 'Cashier' from the 'Ticket Header' tab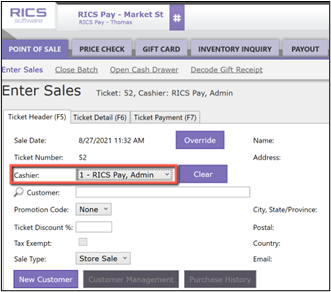 2. Enter a customer account number into the 'Customer' field, or use the magnifying glass to lookup a customer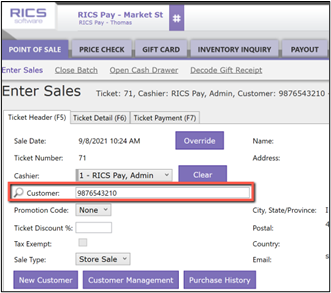 3. Navigate to the 'Ticket Detail' tab to scan or manually enter an item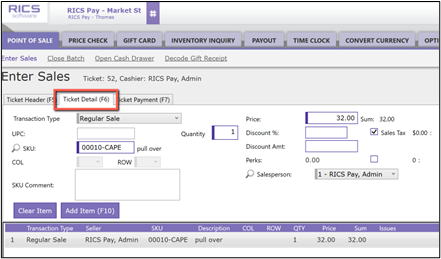 4. Navigate to the 'Ticket Payment' tab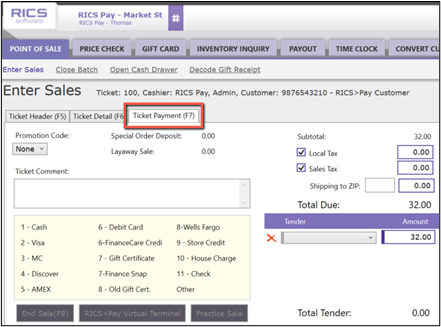 5. Select a credit card tender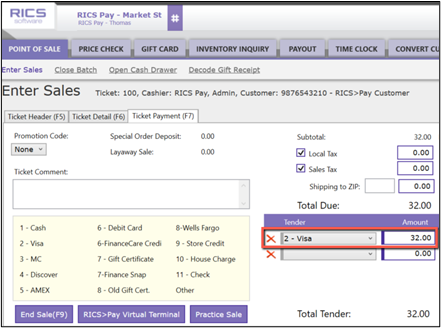 6. Click 'RICS>Pay Virtual Terminal'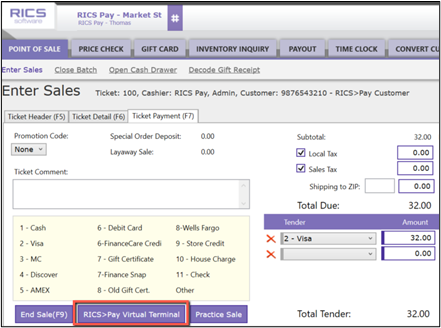 Note: After clicking 'RICS>Pay Virtual Terminal', a new window will open in the RICS>POS.
7. Enter the card information; all fields are required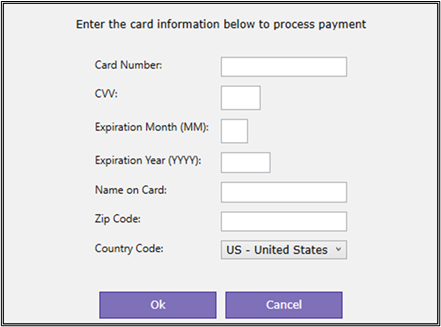 8. Click 'Ok'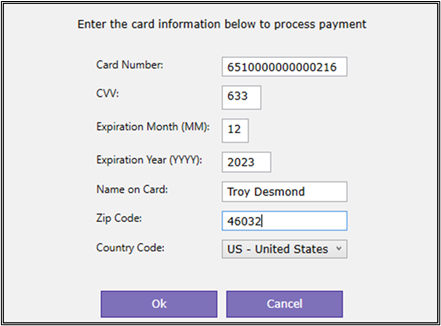 Note: The transaction will complete, a receipt will print, and the cashier will be taken to the Ticket Header tab to begin a new transaction.
Note: If there are multiple credit card tenders and the RICS>Pay Virtual Terminal is selected, ALL credit card tenders will be processed via the Virtual Terminal for that transaction.
UPDATE VIRTUAL TERMINAL SETTING
1. Login to the RICS Back Office
2. Navigate to Setup :: Manage Store :: Setup Settings

3. Enter your RICS Store Number; Click 'LookUp'

4. Click 'POS Credit Card Processing'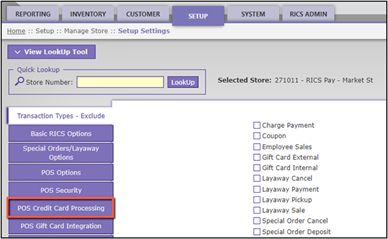 5. Click the checkbox next to 'Enable Virtual Terminal'
6. Select 'Yes' or 'No' in the dropdown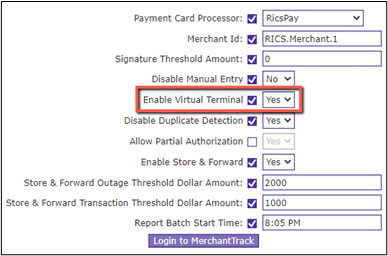 Note: If 'No' is selected in this dropdown, the Virtual Terminal will NOT be enabled.
7. Click 'Save'