OPEN A BATCH
Follow the steps below to open a batch on the RICS POS.
1. Double click the RICS POS icon and log in to the RICS POS
Note: Upon opening and logging on to the RICS POS for the day, a user should be presented with an Open Batch screen. If this is not the case, please follow the steps in Close a Batch prior to proceeding.
2. Click Open Cash Drawer
3. Click Count
Note: After Count is selected, the user will be presented with a Count Cash window to enter or verify the opening cash count.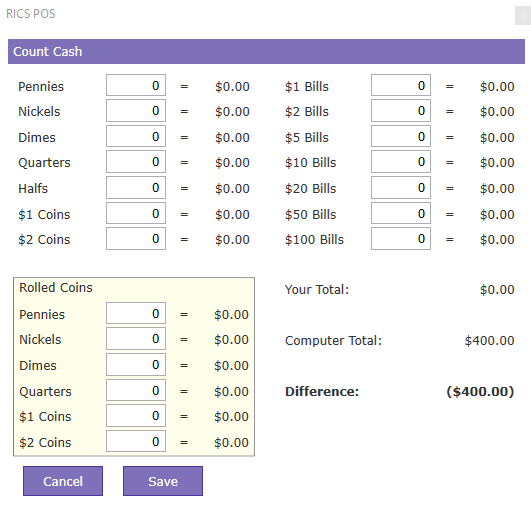 4. Count and enter the quantity for each coin and bill in the corresponding field
5. Click Save
Note: After Save is selected, the counted value will update the Opening Cash Count field.
6. If necessary, click Print Cash Counts
7. If necessary, enter a new ticket number in the Last Ticket Number field
Note: To maintain unique ticket numbers, RICS does not recommend altering this field.
8. Click Save